Grand Exit Wedding (Send Off) Ideas for Couples in 2022. The grand exit, different from a ceremony exit, can go by many names such as, a wedding exit, send-off, grand finale, or farewell line. A traditional wedding exit involves all wedding guests in attendance gathering around as they leave the wedding reception.
Grand Exit (Send Off) Ideas.
Wedding Grand Exit (Send Off) Ideas
The grand exit, which is different from a ceremony exit, can go by many names. These include a wedding exit, send-off, grand finale, or farewell line.
A traditional wedding exit involves all guests in attendance gathering around, incorporating sparklers, confetti, or cheering on the newly married couple as they leave the wedding reception!
The grand exit send-off is a symbolic way to end the wedding celebration and signal the beginning of the newly married couple's life together.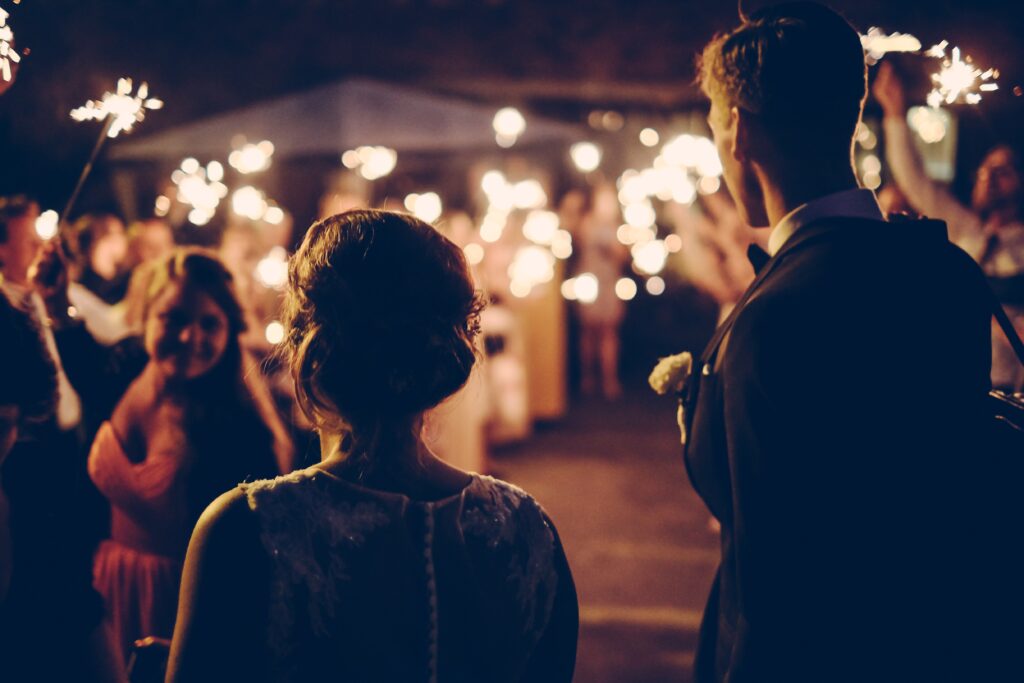 Is a wedding send-off necessary?
YES! If you're looking for a way to end a wedding reception, a grand exit can be an exhilarating and celebratory moment to share. Also, a send off can be a great photo-worthy opportunity. You can capture some of your most exciting moments with your lifelong partner! Not to mention, you're surrounded by friends and family in one glamorous photo.
Ideas for Grand Exit (Send Off) 2022 Grand Exit (Send Off) Ideas
Whether you want to go the traditional or creative route, there are many different variations of the grand exit that can fit your vision.
The many types of wedding exits can range from a balloon send off, glow sticks, to ribbons, and even bubbles. Take a look at some fun ways to end your wedding reception.
Grand Exit (Send Off) Ideas for Weddings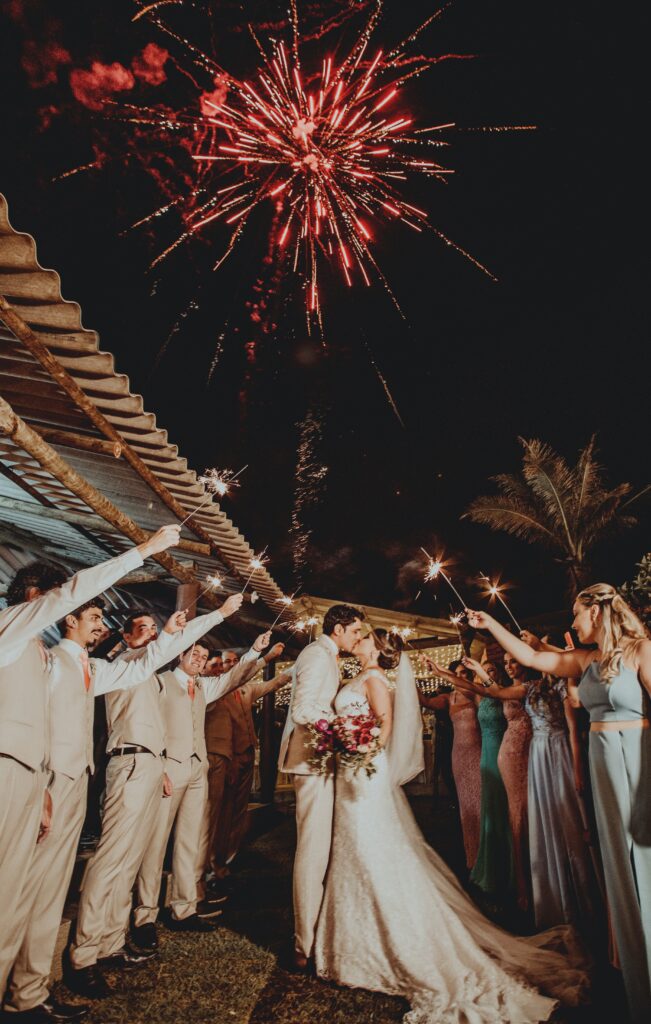 Wedding Exit With Sparklers
Sparks fly! Sparklers can be a classic choice and have been a go-to for most grand exit send offs through the years. They are easy to set up and look awesome in photos.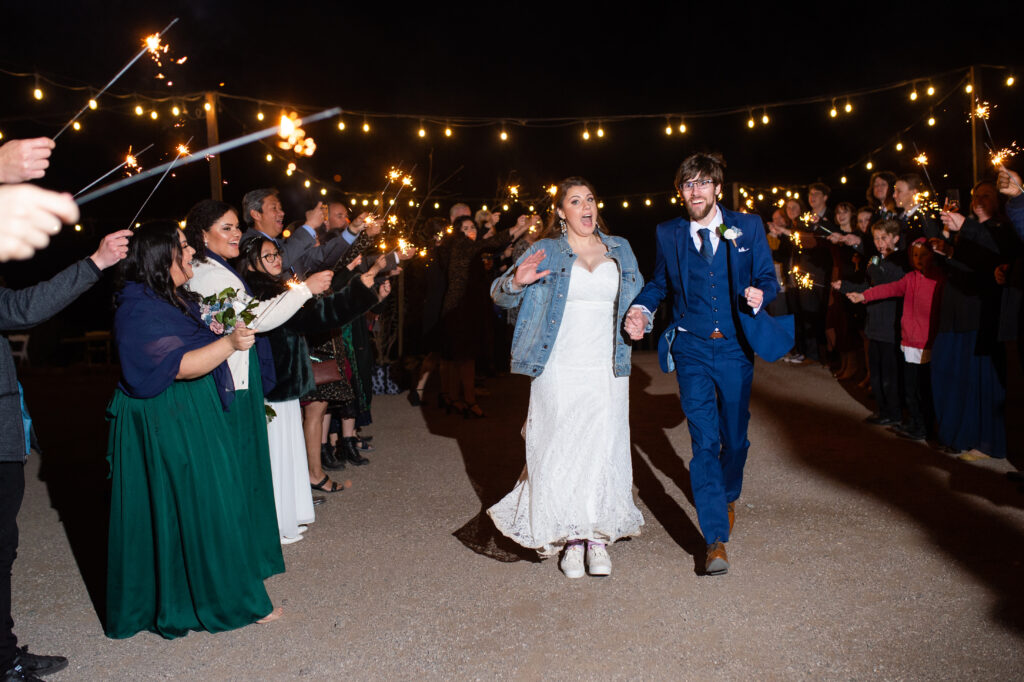 Tips on how to take the best wedding sparkler exit photos:
Coordinate with your photographer/videographer well in advance that you would like to do a sparkler exit, so they know what angles to capture.

Delegate a person to be in charge of your wedding exit. Their job will be to get everyone in position, hand out the wedding sparklers, and coordinate when everyone lights them so everything will be in sync.
Sparkler Advice For Guests
All wedding guests in attendance will be lined up across from each other, half on each side making a tunnel wide enough for you and your significant other to make your way through the exit send off line.
Once you are ready, have your delegated person in charge give the green light for lighting the sparklers down the line.
Have people light the sparklers from both ends of the line. Then, pass the lighter or touch sparkler tips to continue to light other sparklers until everyone is lit. (pun intended)
Final Advice for Sparklers
Once you and your SO get down the line a little, you should stop and kiss (dip if you would like). This will get all guests cheering in the photo. Repeat it once more for more photos!
Additionally, have a safe way for guests to dispose of the sparklers after use, such as a bucket of sand or water nearby.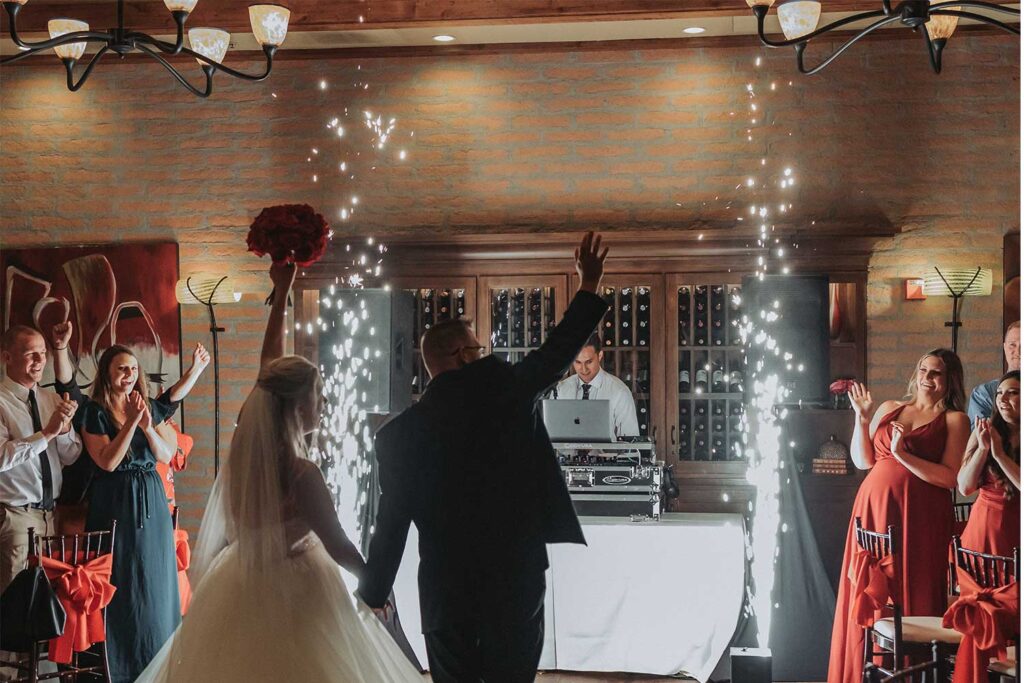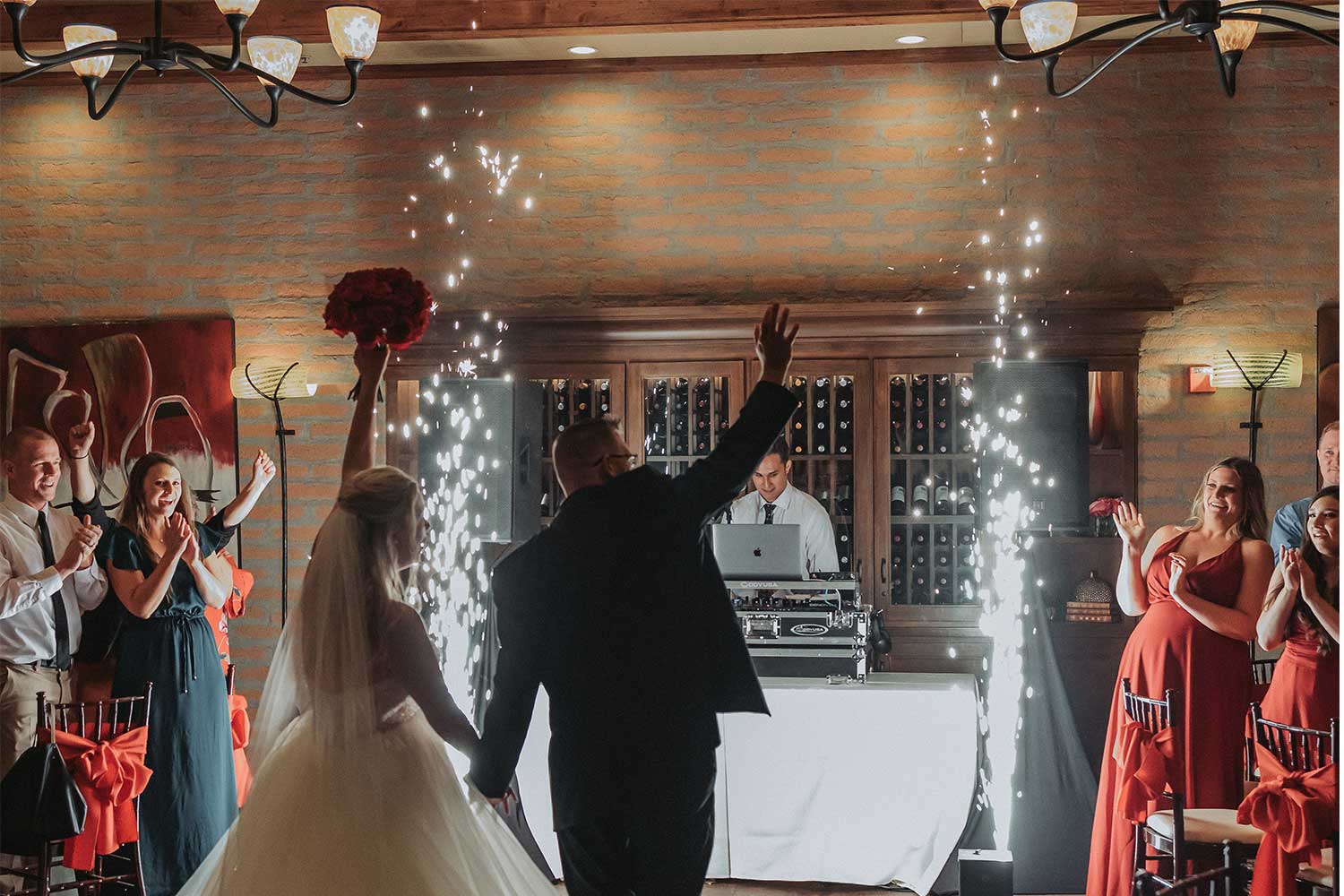 Cold sparks can be a change of scenery from the typical hand sparkler grand exit. The best thing is that they are entirely safe to use for indoor send-offs. You'll be alright if your hand touches any of the sparks and there will also be no smoke, burn, or no mess. Check out our Cold Sparks rentals for a great wedding send-off sparkler alternative.
Glow Stick Wedding Send-Off Ideas
These glowing, light filled wands can be an entertaining send off for your guests and a gleaming photo opportunity as you exit your wedding reception. They are easily customizable, so you can either mix and match or go with a single color theme, attach them to make shapes, or even have them connected across from each guest to make a glow like ceiling as you walk through the exit line.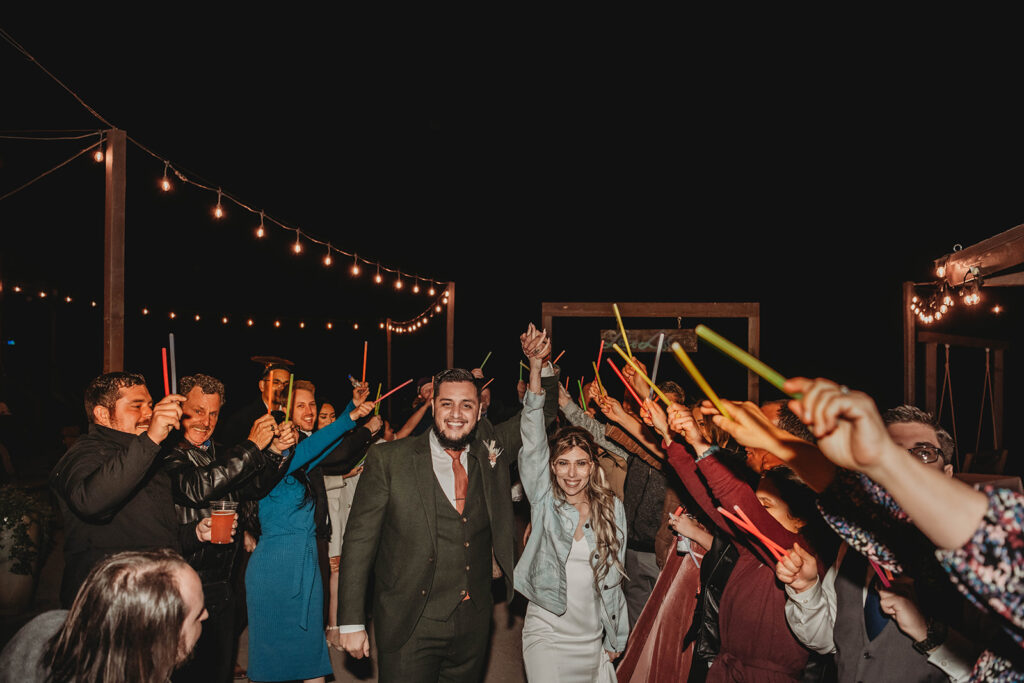 If you don't mind getting wet or a little sticky, then opt into an exhilarating, unique send-off of your dreams, the Champagne exit. The champagne exit is a great way to cool off from a hot, Arizona wedding day and can be a great opportunity to capture some of your most exciting moments together.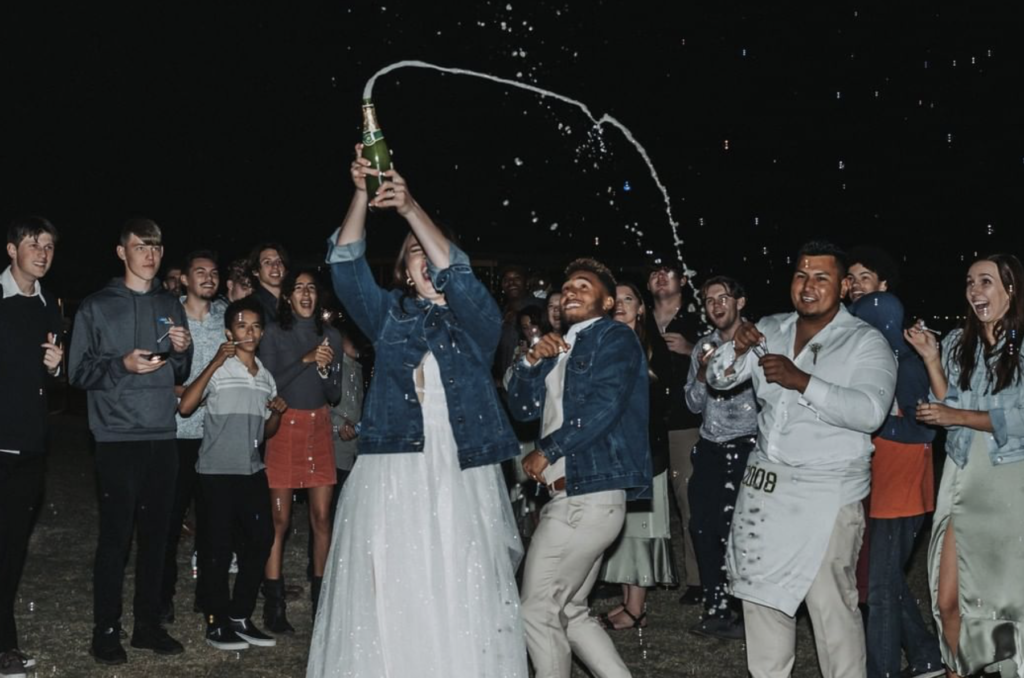 If you are looking to have a specific color or theme to your wedding or want an affordable way to end your amazing wedding day, the ribbon wand, also known as streamers or wedding wands, can be a fun and festive way to head off to your new life together. You can easily customize the color, size, and style of your ribbon to match your wedding theme and colors. Have your names and wedding date written on the handles for a great party favor your guests can keep. You can also learn how to make your own or buy them customized on etsy.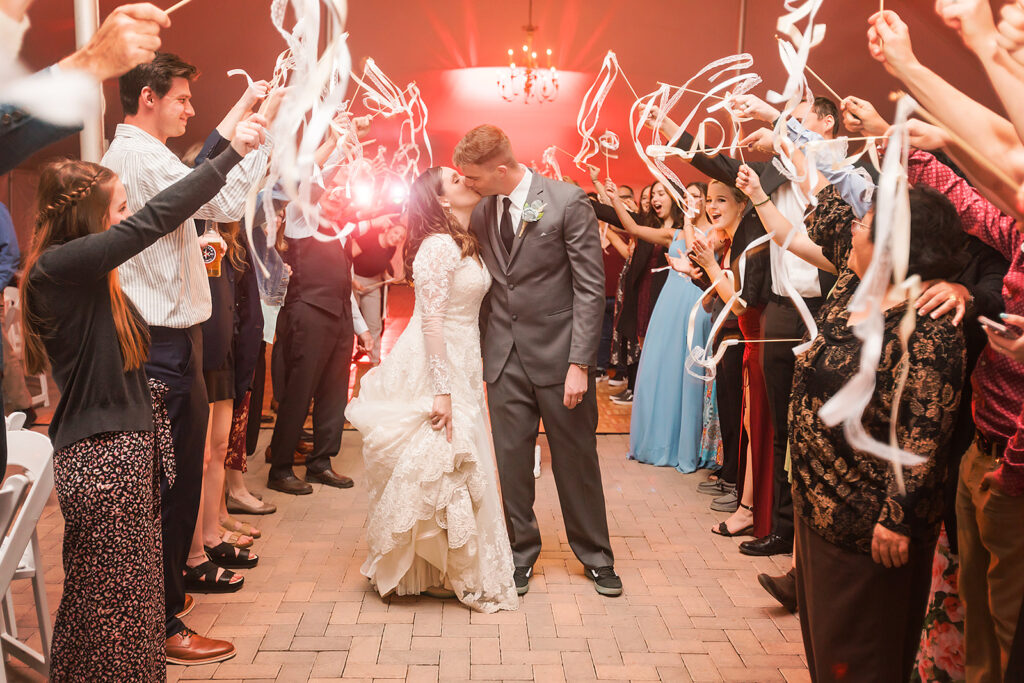 Want a wedding exit idea with no mess? A bubble send-off can be an elegant way to head off to your honeymoon. The pros: affordable, easy to set up, & virtually no clean-up. You can use the traditional bubble wands or buy bubble guns which dispenses a surplus of bubbles for an even more vibrant photo. 
Grand Exit (Send Off) Ideas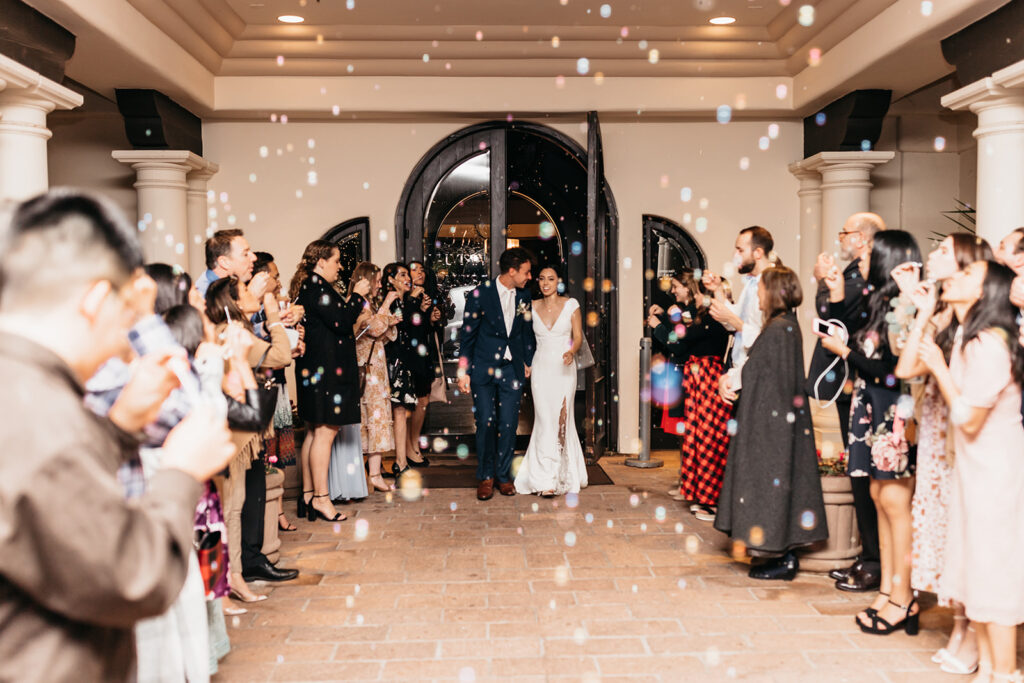 Tips for the Best bubble grand exit send-off photos:
Have someone in charge (typically loud voice) to coordinate and tell everyone when to start blowing bubbles. 
You should stop halfway down the aisle and kiss, dip or a twirl. This will get people cheering which makes for a more energetic photo! Also, it allows even more bubbles to get into the air for even better photos.
The key to a great bubble exit is blowing lots of bubbles just before you approach. Bubble jets will  produce the most amount of bubbles for your photo! 

Alternatively, you can rent a bubble machine.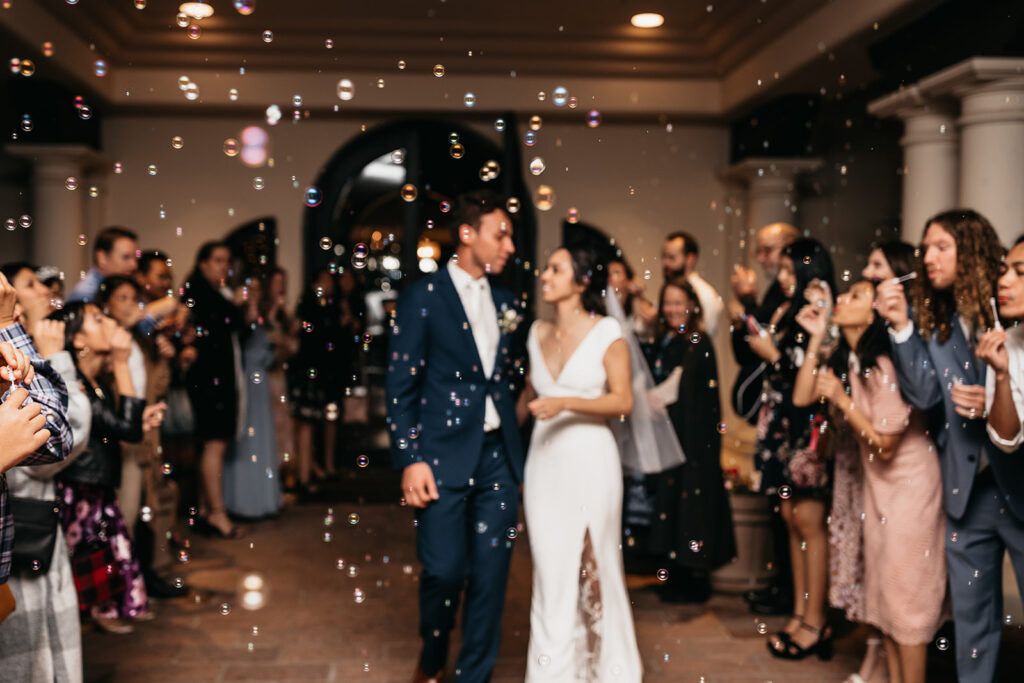 In Conclusion - Grand Exit (Send Off) Ideas
Whether you decide to use bubbles, glow sticks, or simply wave your night away, the options are endless and you will be off to enjoy your new lives together. As always, check with your venue to make sure none of the above suggestions violate your contract. Especially when it comes to sparklers or anything that may leave a mess! 
Thanks for reading our recap of the best Grand Exit (Send Off) Ideas!