Stage Rental in Phoenix, Arizona
Stage Rental near me for Arizona, Phoenix Scottsdale – portable. Arizona portable stages.
Phoenix portable stages pheonix. Stage rental phoenix stage rentals renting a stage in arizona stage rentals arizona stage rentals phoenix. rent a stage in arizona. stage equipment.
rental stage sound rental scottsdale portable stages tucson portable stages stage sound and lighting hire sl100 mobile stage with led wall outdoor stage rental in tucson stage sound and lighting led screen stage backdrop stage sound stage equipment stage sound and light.
Multiple Stage Rental Sizes
Rent stage in Phoenix, Arizona from small to large. Our stages start at 4'x4' with larger sizes available.
Easy Setup & Install
Easy to install and quick set up time. Same day delivery & tear down availability in the Phoenix metro area.
Flexible Rentals
Rent a stage for a day or weekend. Let us know what you need. Need help figuring out what kind of stage you need? Give us a call.
Stage for your event in Arizona – service areas include: Scottsdale, Phoenix, Chandler, Gilbert, Peoria, Goodyear, Buckeye, and Surprise
Stage Rental Prices & Packages
Arizona portable stages & packages are rented by the day or hour. Let us know what package works best for you. Set up and delivery fee not included. Most stages take less than an hour for set up. We also offer PA speaker packages for your rental. Our stage light rentals pair nicely with any stage rental.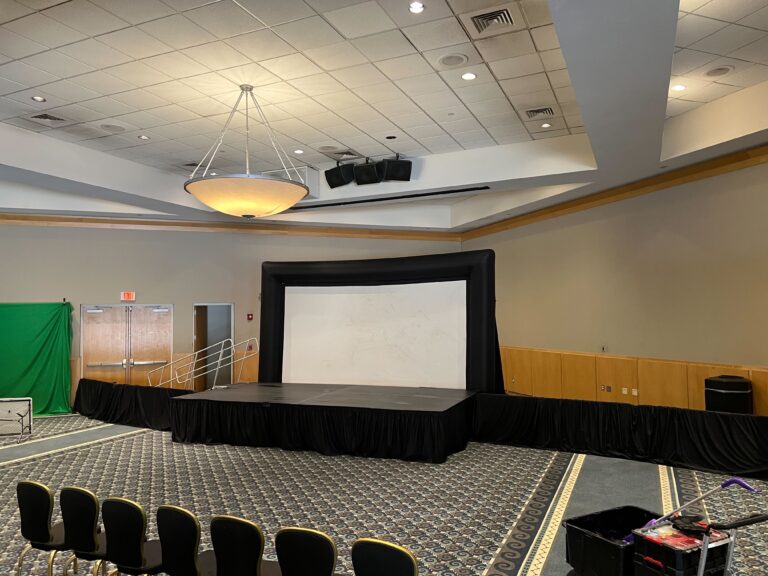 Small Portable Stage Rentals
Smaller stage sizes include:
1. 4ft wide by 4ft deep (single person) (mini stage rental) $200
2. 8 ft wide by 8 ft deep (1-2 people, small speech) $300
3. 16 ft wide by 8 ft deep (3-6 people, panels) $600
Stage stairs: $50/each
1. 16 ft wide by 12 deep – $750
2. 16 ft wide by 16 wide – $1000
3. 24 ft wide by 12 deep – $1750
Stage stairs: $50/each
Note: Medium stage rental sizes can be best for panels of people, bands, award ceremonies, graduations, or more. Contact us with more information if you are looking for something specific.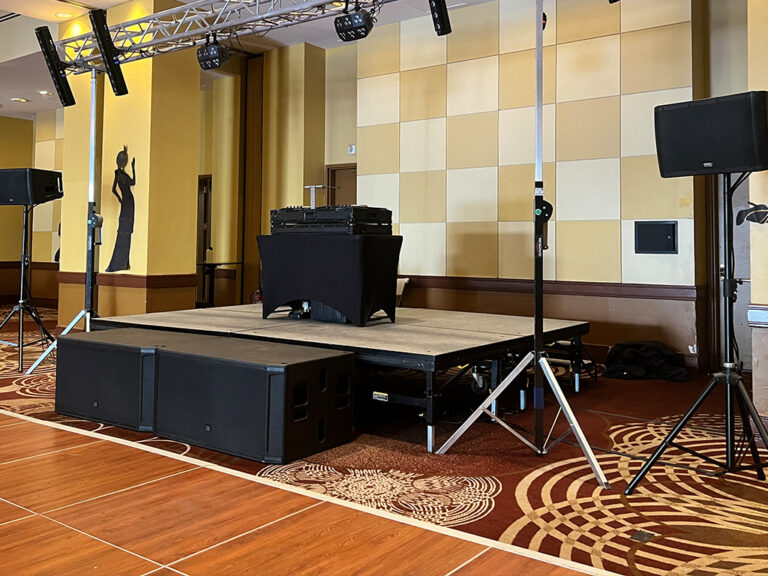 Large Festival & Concert Stages (Outdoor Stage Rental)
Call us to talk more about large festivals or portable stages (like the SL100 rental). Large sizes include 20ft x 30ft or bigger.
We offer the ability to have a large covered stage for concert rentals. Check out our sister site for more information. 
Stage Rental Phoenix Demo Video
Our stages make great choir risers for your next show! You can easily have a small to medium sized choir elevated for your next performance. Groups and choirs love our stages & risers for their performances. Rent a choir riser.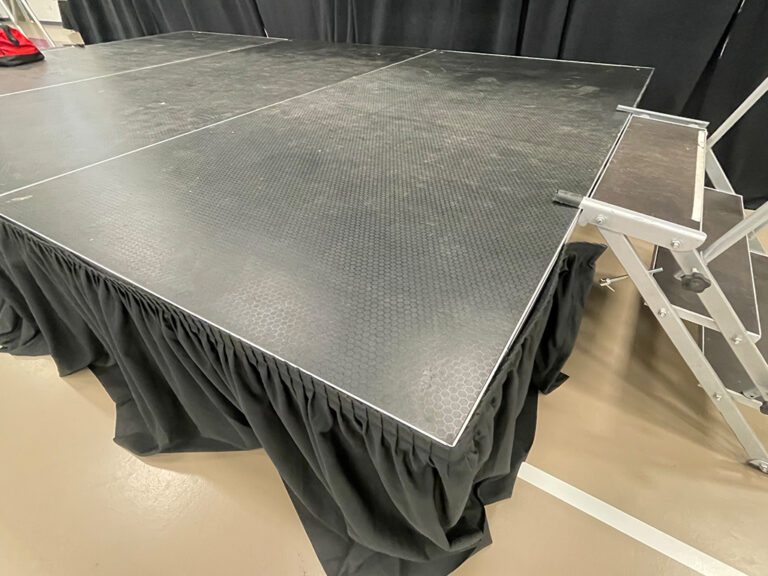 Small Choir riser Rentals
Smaller stage sizes include:
2. 8 ft wide by 8 ft deep (1-2 people, small group) $300
3. 16 ft wide by 8 ft deep (3-6 people, panels) $600
Riser stairs: $50/each
Relevant Stage Services for you
Check out these other services we offer that can help make your event planning easier. We've put this list together to help your search. Check out our stage lighting rentals and speaker rentals (such as the QSC KLA12s)
Arizona Stage Rentals - Gallery of Stage Sizes & Dimensions
Additional Mobile Stage information
You will need to know  three simple measurements when renting a stage: Width, Length, and Height. We rent different types of stages and risers to fit almost any need and we'll be happy to answer all questions you have about mobile stage rentals.  Our rentals start at 24″ or two feet high.
Our stage decks are 4 ft wide X 4 ft long so we can set up multiple different configurations with our portable stages. Some common stage sizes are listed below. Each stage panel rents for $75 and will now include include you choice of 12″ or 24″ tall stage height with black skirting on the front facing sides.
Stairs with hand rails for 12″ or 24″ stage can be added for $50 and not really needed for 12″ stages but can be added if you desire. 32″ tall stage panels rent for $75 per panel and will include stage leg bracing. Stairs for 24+" stage with or without handrails will rent for $50.
Set up and take down is included for flat level area, for example, inside a garage. Delivery and pick up is an additional fee and will depend on the size stage you rent with many other factors. So, please call us with your details and we will be happy to give you a written or verbal quote. Please scroll down for more photos of our portable stages. We also rent stage trailers for larger events.
Advantages of our stage rentals:
Our stage panels have a rubberized non slip coating bonded on the top surface that looks great. Most other stage rentals are covered with black Astro turf or carpet.
Our stage rentals are professionally made to be used as a stage and are not tables with short legs clamped together.
Our stairs come complete with handrails at no additional charge.
Our stage rentals are professional quality and feature wide stairs with hand rails so they are very easy to climb. We finish all of our stages with black stage skirting for the professional look you deserve. We offer round corners for fashion runways or as an extension to any stage. The round front really makes the stage look amazing
Stage Rental Phoenix – Information
Our stage stairs have a steel frame with aluminum steps making them easy to see while climbing. 
Not all stage rental companies carry this type of stage but rest assured that when you rent stages from C West Entertainment you will get high quality stage panels delivered.
C West Entertainment offers an affordable portable staging system rental. Portable stages most commonly used at schools, churches,, for DJs or community events. Can be used indoor or outdoor with ease!
We have many sizes in stock 4′ x 8′ 4′ x 4′ or even round ones. The all can be connected, so virtually we can create any size desired.
Outdoor Stage for Music Festivals 
Sizes that are popular for outdoor music festivals start with a 12'x16′. Larger stages like 20'x16′ are best for hosts to seamlessly switch between acts. 
arizona portable stages  phoenix portable stages  scottsdale portable stages  tucson portable stages  mobile stage llc  outdoor stage for sale  portable stage trailer  mobile stage rentals  stage for sale  small performance stages for sale  used portable stage trailer for sale  mobile stage rental  mobile stage for sale  portable stage platforms for sale  portable stage rentals  used stage platforms sale portable stage rental  outdoor stage rental near me  mobile outdoor stage background  temporary stage platforms  used portable stages for sale  portable stage for rent  small outdoor stage  stage decks for sale  portable stage platform  portable stage risers for sale  small stage platform  used portable stage platforms  outdoor  portable staging platforms  portable stage for sal
Mobile Stage Rental near me