From your first phone call through to the day of your special event, our staff, DJs and polished MCs make it their goal to bring your vision to reality. So, we provide the right party atmosphere that is guaranteed to keep your guests on their feet and having an amazing time! So, let's learn about Kordel Saunders.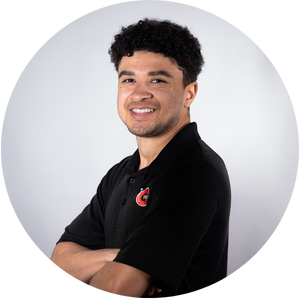 Kordel's love for music began at an early age dancing and singing to artists like Michael Jackson, playing  the drums from 4th grade all the way through Peoria High school where he played the snare drum in the marching band. This is where it all began.
He then started to DJ friends' parties, local community events, all while attending college at The University of Arizona where he studied Business Administration. (Yes, there are rival schools between our DJs!) During this time, he also began going to various concerts and music festivals such as Gold Rush and EDC, which made his love and passion to DJ grow even more. 
Kordel has been a DJ for over 4 years performing at weddings, community/corporate events, and even proms. If you ask, he'll tell you that his go to is performing at any crowd that is ready for some HYPE! That is why if you go with DJ Kordel, he is sure to make you party.
Kordel really enjoys listening to Hip-Hop, 90s/2000s, and EDM, but his love for music of all genres gives him an open format role. So, DJ Kordel Saunders is ready to party at any event!
What does a Wedding with DJ Kordel sound like?
Kordel didn't get some info he needed until 2 am of the morning of the wedding. HE DID A FANTASTIC JOB!!
A DJ can really make or break a wedding... My husband and I were married in October in Tucson and DJ C West Entertainment made our wedding incredible!! When we initially met Javier, we knew we were making the right decision in hiring DJ C West Entertainment. Kordel ended up being our specific DJ and he KNOCKED IT OUT OF THE PARK! Everything went smoothly during the ceremony and, during the reception, the music was perfect. Kordel read the room and really kept the energy high. Everyone was dancing all night! I cannot express how incredible DJ C West Entertainment and Kordel and Javier were throughout the entire experience and how Kordel really made the wedding smooth and memorable! I HIGHLY recommend DJ C West Entertainment!!
Chris and I wish to express our absolute pleasure it was to work with Kordel. As I mentioned to him, it is obvious he enjoys his work and it translates in his professionalism and excellent ability to be genuinely personable. He executed our agenda flawlessly and responded to a couple quick-changes and requests without hesitation…all with a smile and enthusiasm. I've honestly hadn't had this kind of exceptional ethic in a long time with any business. From working with you, your staff, the website and navigating payments (even though I'm an old dude with technology "issues" lol) you worked with me and made it perfect. I'm super impressed with your services.