How to Find a Perfect DJ. We've got the best steps and questions to ask your potential DJ to get you started. From choosing the right person to handle your music to where to find them – we've got you covered.
About the Author: Javier Carlos is a proud Arizonian and founder of DJ company, C West Entertainment. With over 200 events under his belt, he knows just how to get the party started (and keep it going). Javier is excited to share his insight for people looking to hire a DJ.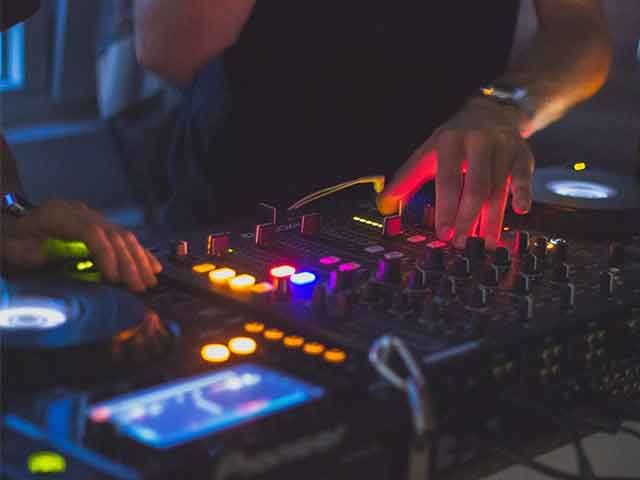 1) What kind of DJ do you need?
If you are searching for the perfect DJ for your event, it's essential to know what they do best. It is okay to ask your DJ if they would be comfortable working at your event if they've never worked your kind of event before.
Some DJs specialize in certain types of events – some are better at weddings, some solely do school dances, and so on. It's all about knowing their strengths and weaknesses.
Don't be afraid to ask when you book what your DJ does best and if they would be a good fit.

2) Search your local area
Google Maps is your best friend when it comes to looking for local pros. Additionally, they can connect you to amazing professionals that might be your next-door neighbor!
Google has made the online-searching experience super convenient. So, I've found that when I explore my area, I can see reviews from people that I know (which leads to our next tip)…
3) Read their Reviews
What do other people have to say about your DJ?
In this day and age, we're blessed with so many places to read reviews. There's Facebook, Google, Yelp, and even places like Bark.
If you find a DJ company you are interested in, be sure to throw their name in a search engine to see where else you can find information about them. You may be surprised when you see what pops up on another website.

4) Who will be my DJ?
Sometimes when you call a company, they have a group of disk jockeys at their fingertips. If you didn't know this, you might be left confused when someone random shows up to your door.
Javier's: I always ask my clients if they have seen one of our DJs or ask if they have a preference. This way, I know if they have been referred to one of our team members already so we can go straight to them. So, if the client doesn't have a preference, I do my best to see who on our team will be the best fit!
5) What's my DJ like?
Start with: What is your favorite genre to mix? How long have you been a DJ? How would you handle the crowd?
Yes, these questions sound like what you would hear in an interview, but that's what you're doing – interviewing your DJ. You want to hire the right person.
Javier: Be sure that your DJ can match the vibe you want and if they're willing to be flexible. That can make or break your event!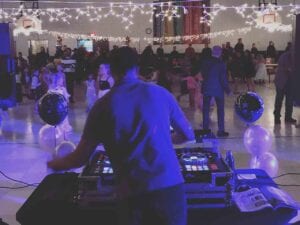 6) What kind of music can you play?
Your DJ needs to play the right kind of music which will ensure you and your guests have a great time.
Questions like: Can you play this artist? Or: Can we provide you with a list of songs?
When you do this, you will be able to craft the perfect evening and give the DJ an idea of what kind of vibe you would like. Your DJ should work with you to make this possible.
To summarize: (How to Find a Perfect DJ)
Looking how to find a perfect DJ isn't rocket science. You've got this covered. Come prepared to ask these questions and follow our steps and you will be able to find the best DJ for your event. So, if you still need help, you can spice it up y with some of our bonus questions.
Bonus Questions:
Do you have insurance?
Are you on social media?
What else do you provide? (Lights, microphones, special effects)
Can my guests request songs?
Can I submit a Do-Not-Play List?
Do you travel?
Where are you located?
How many years have you been a DJ?
What songs do you use to get the dance floor going?
Who Will be my DJ?
How long have you been a DJ?
Do you do announcements (MC)?
Who will be my DJ?
What tip helped you how to find a perfect DJ? Let us know!