From your first phone call through to the day of your special event, our staff, DJs and polished MCs make it their goal to bring your vision to reality. So, we provide the right party atmosphere that is guaranteed to keep your guests on their feet and having an amazing time! So, let's learn about Javier Carlos.
Video Interview
with DJ Javier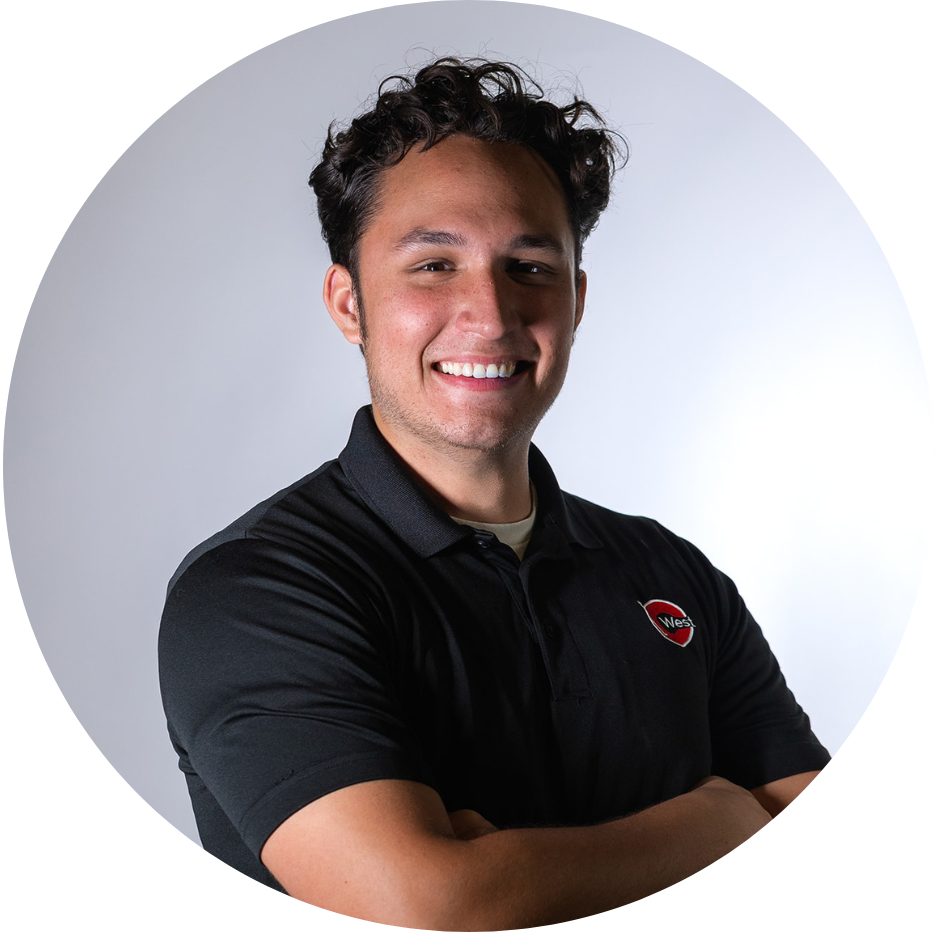 Meet Javier Carlos, the dynamic and multi-talented founding DJ of C West Entertainment. As the first point of contact with a warm smile, Javier is a true entertainer at heart.
Javier's passion for entertainment has been a part of him for as long as he can remember. From an early age, he fell in love with the camera and explored his creativity by producing music videos, skits, and captivating content on YouTube. Even today, his love for the camera remains unwavering, and he continues to be drawn to the world of cinematography.
Throughout his journey, Javier discovered his innate talent for DJing during his time at school. Collaborating with an older student, he stepped onto the stage and unleashed his electrifying performances. This experience ignited a shared passion that laid the foundation for his future as a thriving DJ.
Javier's dedication to his craft is reflected in his academic achievements. Graduating from Arizona State University in 2022, he embodies the spirit of continuous learning and growth, always seeking to enhance his skills and enrich his performance.
Beyond his DJing endeavors, Javier is an active member of the Southwest Valley Chamber and NACE (National Association for Catering and Events). Engaging with these professional communities allows him to connect with like-minded individuals and further refine his expertise in the entertainment industry.
When he's not dazzling audiences with his DJ sets, you can find Javier spreading his positive energy and team spirit as a proud member of the Arizona State Spirit Squad. Cheering and performing stunts at football, basketball, and women's volleyball games, he adds an extra layer of excitement to the sports events.
In his free time, Javier embraces his creativity by exploring the great outdoors and indulging in his fascination with astronomy. He also channels his artistic talents into graphic design, website design, and producing music, constantly pushing the boundaries of his artistry.
What does a Wedding with DJ Javier sound like?
DJ Javier Carlos' Reviews
Javier was the best DJ I could've asked for! A DJ is one of the most important vendor choices for any event or wedding, and it's very important to find one that will create the perfect atmosphere for you. Javier did just that! He smoothly transitioned from each moment to the next on our timeline, while playing great songs throughout the whole night. And when the open dancing started, he kept the party going until the very end of the night! (This was very important to my husband and I because we love to dance.)
I would like to recommend DJ Javier and Caleb for any of your DJ needs. They DJ our gay wedding and we were very impressed by their professionalism and inclusiveness. They played fantastic music and we are very thankful!! Great job!!!!
I cannot thank you enough! Everyone keeps telling us how much fun they had at our reception and continuously rave about you, our DJ. You are my number one recommendation to anyone in search of DJ services.
Our wedding was a success. It was so so much fun and Javier is a big part of it. He was so great. All my friends and family enjoyed the music. It was very easy to contact him. I often text him late but it takes him 1 minute to answer. The guests did not stop dancing until the music turned off. He is so helpful and it was a please working with him!
Javier is one great DJ! He is great with communication, organized, and a great listener when it came for our vision for the music we wanted played at our wedding. My husband and I wanted a large variety of music and he kept the high energy of the night consistent even while going between genres. One second it was a pop music party and the next it was cumbia central. He played our favorite oldies then hit us with reggaetón. Javier's DJ set up was clean, discreet, and blended in with our venue. He was worth EVERY PENNY! I had guests asking me days later if he had a playlist that we could send them from the night of the party. Hands down, C West Entertainment is the way to go for your event.
Who is Javier Carlos?
Javier Carlos is a DJ and MC from Phoenix, Arizona. 
Where is Javier Carlos?
Javier Carlos is based in the Phoenix-Metro area and is a music aficionado and professional event DJ.