From your first phone call through to the day of your special event, our staff, DJs, and polished MCs make it their goal to bring your vision to reality. So, we provide the right party atmosphere that is guaranteed to keep your guests on their feet and having an amazing time! So, let's learn about Junior Godoy.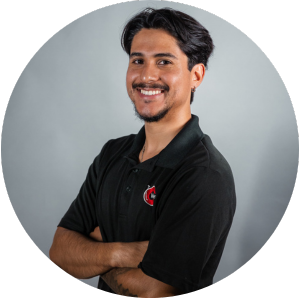 Introducing an Arizona native who knows how to ignite the dance floor, Junior Godoy, also known as DJ Juneyuh. Hailing from the Valley, Junior's deep connection with the diverse cultural tapestry of the region brings an unmatched energy to every event he graces.
From a young age, Junior has embraced the role of music curator, infusing gatherings of all sizes with infectious energy and an unbeatable atmosphere. Whether it's a small gathering or a grand event, Junior thrives on the responsibility of setting the musical vibe just right.
As one of the rising young talents at our company, Junior burst onto the scene with an electrifying stage presence and an extensive musical library that spans various genres. His ability to get everyone on their feet is unparalleled, creating an unforgettable experience for every audience.
Junior's Background
Junior understands the sheer joy of dancing the night away with your best friends, creating memories that last a lifetime. With an infectious smile and an open mind, he brings a welcoming atmosphere to your event, encouraging song requests and relishing the chance to discover new music that resonates with the crowd. His musical arsenal includes genres like Latin (Banda, Cumbia, Reggaeton), Hip Hop, R&B, EDM, and more, continually expanding thanks to the input of his audience.
Beyond being a captivating entertainer and hype man, Junior is a sports enthusiast who ardently supports his favorite Arizona teams, even when they occasionally disappoint him. He's always up for a spirited sports debate or a discussion about any team-related hot takes you might have.
When he's not lighting up the stage or discussing sports, Junior indulges in his love for music festivals, attending everything from hip hop extravaganzas to EDM spectacles. He's also an avid cyclist who embarks on long rides, much to the delight of his canine companion.
In Junior Godoy, you'll find not just a DJ, but a true entertainer who understands the pulse of the crowd and brings an infectious energy to every event. With his dynamic personality, extensive musical knowledge, and commitment to making every gathering unforgettable, Junior is a rising star in the entertainment scene that you won't want to miss.