From your first phone call through to the day of your special event, our staff, DJs and polished MCs make it their goal to bring your vision to reality. So, we provide the right party atmosphere that is guaranteed to keep your guests on their feet and having an amazing time! So, let's learn about DJ Matt Hoppal.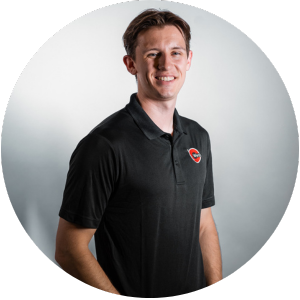 Meet DJ Matt Hoppall, one of our two EDM masters!
Meet Matt, otherwise called DJ Matt when he's behind the controller! Matt is a recent GCU (Business Management) Alumni, so you know he'll bring the party.
Matt loves staying active and pursuing every exciting opportunity thrown his way. As a member of basketball, track, cross country, and ultimate frisbee in high school, Matt approaches everything with dedication and passion. 
This lifestyle continued into college, where he played various competitive sports with friends. At GCU, Matt met our longest-standing DJ alongside Javier: Mr. DJ Caleb! DJing became a perfect fit for Matt; he enjoys energetic, musical atmospheres and hyping up a crowd. Through helping Caleb with production events, he approached DJ C West to pursue DJing full-time!
Matt mixes old school, hip-hop, pop, and EDM, with the occasional remix sprinkled in. In his free time, you can catch Matt running a Spartan race, discovering a new hiking trail, or editing GoPro and drone footage for his next adventure!
What does an event with DJ Matt Hoppal sound like?
The C West team were great to work with. From my initial inquiry throughout the planning and execution, I was thrilled with the communication. Matt was our DJ and he was such fun! This was a backyard graduation party for 60 people ranging from high school to 80 years old!
Who is Matt Hoppal?
Matt Hoppal is a DJ and MC from Phoenix, Arizona. 
Where isMatt Hoppal?
Matt Hoppal is based in the Phoenix-Metro area and is a music aficionado and professional event DJ.