From your first phone call through to the day of your special event, our staff, DJs (like DJ Caleb Fine) and polished MCs make it their goal to bring your vision to reality. So, we provide the right party atmosphere that is guaranteed to keep your guests on their feet and having an amazing time!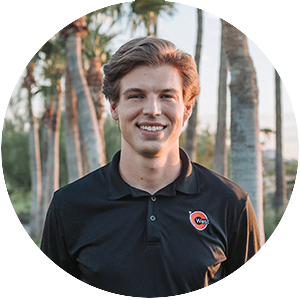 Caleb has been an integral member since 2017. He was trained by Javier Carlos and now even shows him a thing or two! He is also the winner of the 2019 Spirit Nationals Mascot Championships, so yeah, he knows how to bring the energy. We're proud to have him on our team and would love to have him at your next event. 
Caleb Fine is driven by a passion for music. For example, he's been actively involved in all things musical. Whether it was a concert band, pep band, jazz band, or even his church's worship band.
Caleb's latest development in his musical journey occurred during his sophomore year of high school when he began his career as a DJ. He established his brand as "DJ Fine" and has made himself known in the mobile DJ industry.
He has now performed at hundreds of events in the Phoenix Metro area. At the same time, pursuing his degree at Grand Canyon University.  In addition to his skills as a DJ, you will love his deep voice as your Master of Ceremonies. So, he will work tirelessly to ensure that you are 110% confident that your dance floor will be packed and your guests will an unforgettable experience that will be remembered for years to come! Now, he is currently studying Business with an emphasis in Digital Media. He will be a graduate of GCU in the fall of 2023.
If you are looking for a professional DJ that is fun, entertaining and meets your needs than I cannot recommend DJ C West Entertainment enough! They know how to work the crowd, getting the party going, and continue going throughout the night! DJ Fine has done our school dances and assemblies for the past 4 years and we hope to continue that relationship well into the future. Also, Caleb just did our Homecoming dance and it was a great time!
I would like to recommend DJ Javier and Caleb for any of your DJ needs. They DJ our gay wedding and we were very impressed by their professionalism and inclusiveness. Also, they played fantastic music and we are very thankful!! Great job!!!!
Caleb Fine is a DJ for C West Entertainment in Avondale, Arizona. He is a mobile entertainer for the Pheonix-metro area.